VANCOUVER'S FLOW EXPERIENCE.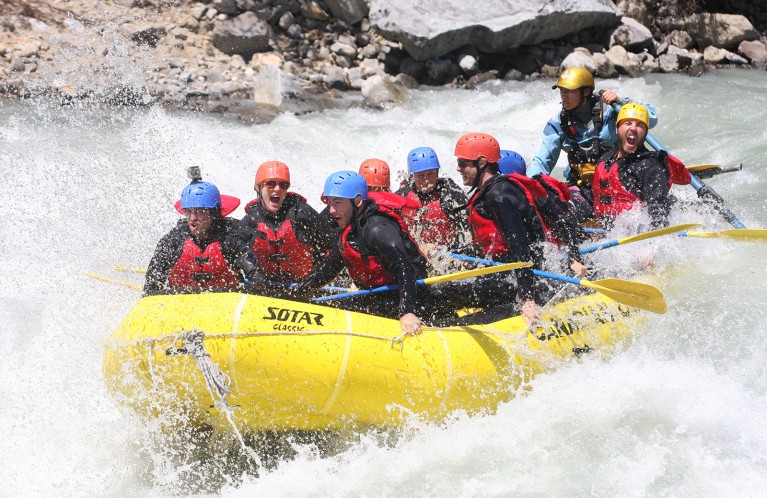 White Water Rafting in Vancouver
Heart-pounding rapids. Spectacular views of mountain peaks, volcanoes and glaciers. And top notch guiding by knowledgeable experts who have you laughing the whole way down. The Elaho and Squamish rivers near Vancouver are your ticket to a world-class river rafting adventure.

Family Rafting Trips in Vancouver
This summer treat your kids to some real family time together with a rafting trip down the Cheakamus River near Vancouver. With fun bouncy rapids, well-timed visits by the
Splash Monster
, and some of the best scenery Mother Nature has to offer, it's a rafting trip everyone will enjoy.

Scenic Twilight Float
An ideal outdoor evening activity for families, children, seniors, and anyone looking for a gentle and fun scenic outing. The Scenic Twilight Float is a family friendly rafting float trip that features small splashy rapids, outstanding scenery and lots of laughs shared under the setting sun

Multi-Day Rafting Trips in Vancouver
A rafting expedition like no other, just outside of Vancouver. 24 hours of a howling good time shooting Class 3-4 rapids, soaking in breathtaking scenery, enjoying delicious meals, and connecting with fellow adventurers. Can you squeeze more fun into a weekend?

Group Rafting Trips in Vancouver
White water rafting is old school. Whether you're a group of thrill seeking adventure junkies, need a unique idea for a stag or birthday party, or want a unique teambuilding event outside of the office, our Vancouver group rafting trips have everything you'll need to make lasting memories, together.

World Class Whitewater Rafting Trips in Vancouver, BC
Relax. You're in good hands and great company. We've been a leader in Vancouver whitewater rafting trips for over 3 decades, providing fellow adventurers with "the best outdoor experience of their lives."
And you'll notice the others gathered to go rafting are in fact just like you. Adventurers of all ages and athletic abilities, and all with a common desire to venture beyond their comfort zone. A whitewater rafting trip near Vancouver is a great way to stretch your boundaries, get out there, and live life.
Vancouver is an incredible setting for a memorable river adventure. It has everything you could want. Choose from a challenging, adrenaline-infused run down the Elaho and Squamish rivers, or a more leisurely, family-friendly journey on the Cheakamus. But it's not just the rivers. It's everything that goes along with it.
Both rivers are surrounded by a sampling of Canada's most inspiring wilderness. Take a breather between the rapids and soak in old growth forests, towering glaciers, dormant volcanoes, and stunning waterfalls that cascade hundreds of feet toward the river. If you're really lucky you'll get a glimpse of the local deer, beavers and bears which often stop by the river's edge.
Our guides are the single most complimented part of our operation. They remember your adventure is about you and your experience on the river. They're storytellers, comedians, jesters, history professors, great companions, and of course, excellent rafting guides. Friendly, approachable and tremendously experienced, our guides are pros at keeping you calm as you venture out of your comfort zone.
This was a really great way to spend our afternoon. Matt, our rafting guide, was awesome! The whole time on the water was both exciting and beautiful. I've lived in BC my whole life and this was impressive even to me. – Iansurf
Take Action!
Get out there. Rediscover your sense of adventure.
Contact Us
Our Headquarters 12825 Squamish Valley Road
Our Telephone Toll Free: 1-604-898-2365